Top 6 Things to do in Cebu, Philippines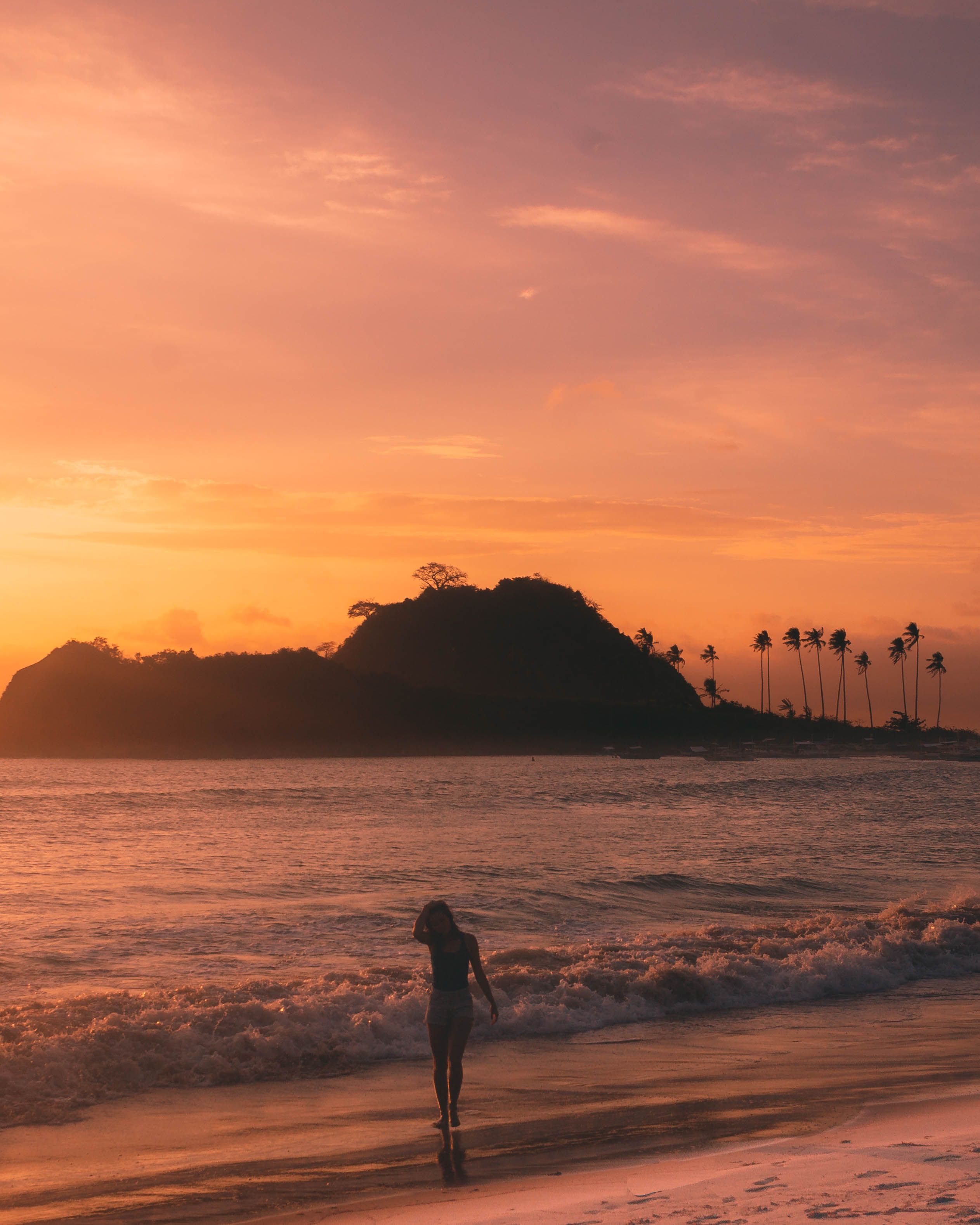 If you're reading this because you're planning a trip to the Philippines - we're so incredibly jealous of you and know you're going to LOVE this country. You're in for a great vacation full of mouthwatering food, unreal beaches and waterfalls, and the nicest people on the planet. If you're reading this because you're a fan of Bamboo Ave swimwear - hey, we see you! And we appreciate you! We love to travel and wanted to share some of our adventures around the world with you, hope you enjoy!!
*Also, at the time we're writing this (5/5/19), $1 USD = 51 Pesos. While traveling the Philippines, you'll want to have their currency in cash. A lot of ATMs run out of cash, so get it at the airport or in big cities.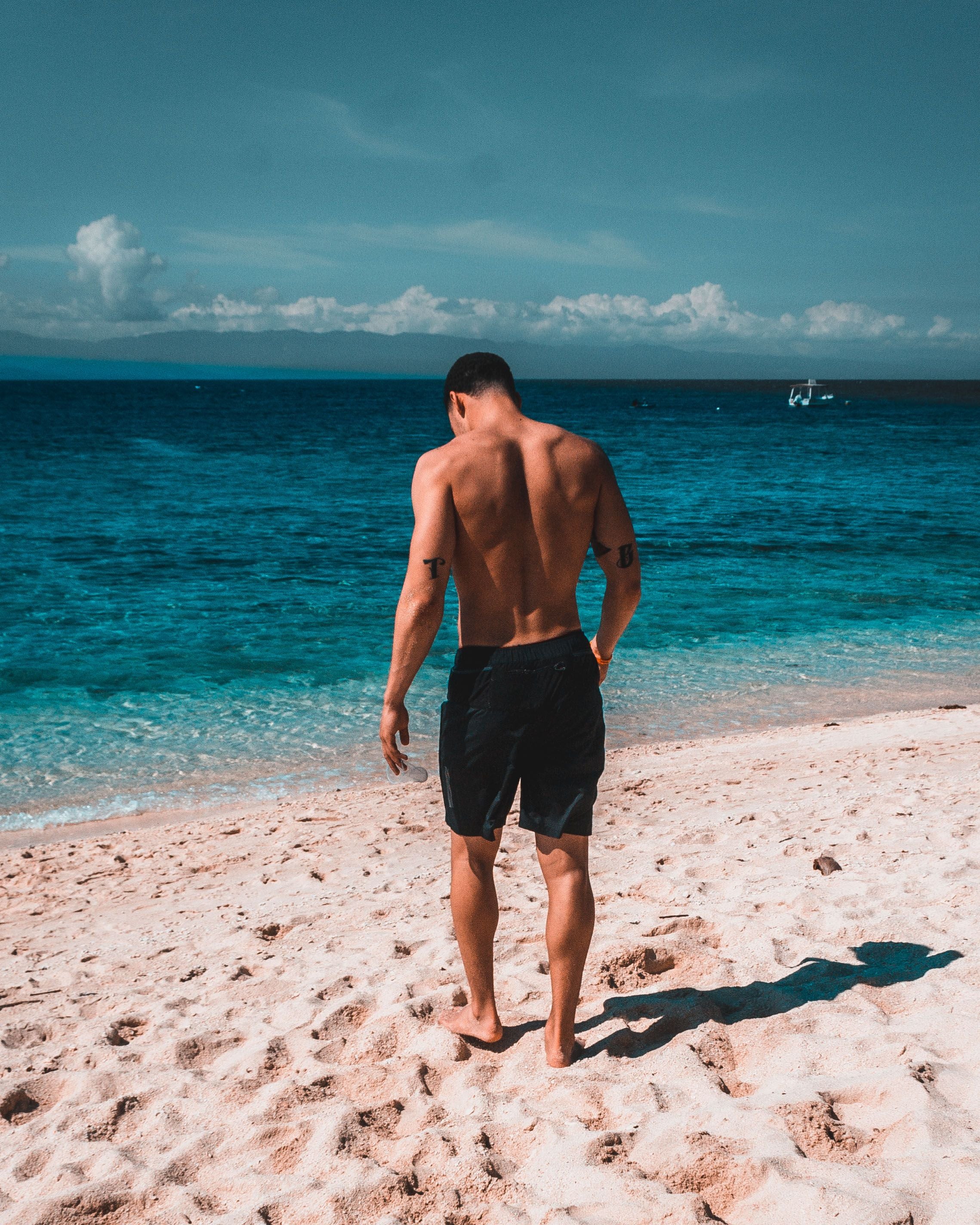 White Beach
This was the first beach we experienced in the Philippines and let me tell ya, it did not disappoint. The white sand and turquoise waters make it an awesome place to spend an afternoon. There are a couple places to buy food and also some locals walking around selling their local beer (San Miguel), coconuts and ice cream. We caved and bought all three because the local man was so kind and outgoing. He popped his cooler down right next to us and we chatted about his life and family for a good 30 minutes. That's more than likely going to happen to you a couple times in the Philippines and I don't know if we'll ever get over how kind and friendly they are.
This probably goes without saying, but I'm going to say it anyway…..you should wear sunscreen while you're in the Philippines. That sun is HOT. And it absolutely cooked our skin while we were out there. But otherwise, this is an awesome beach to kick back and relax for a couple hours.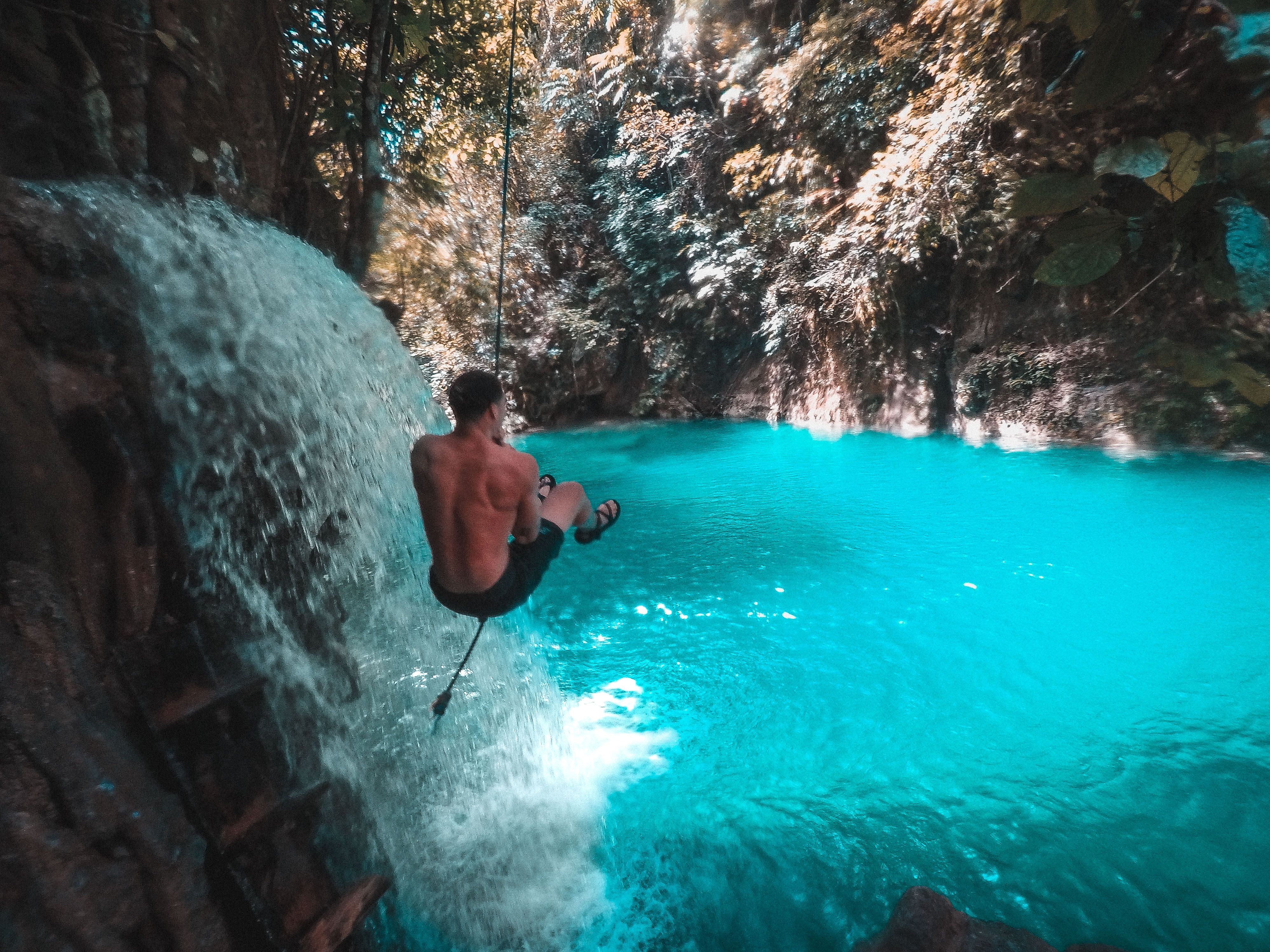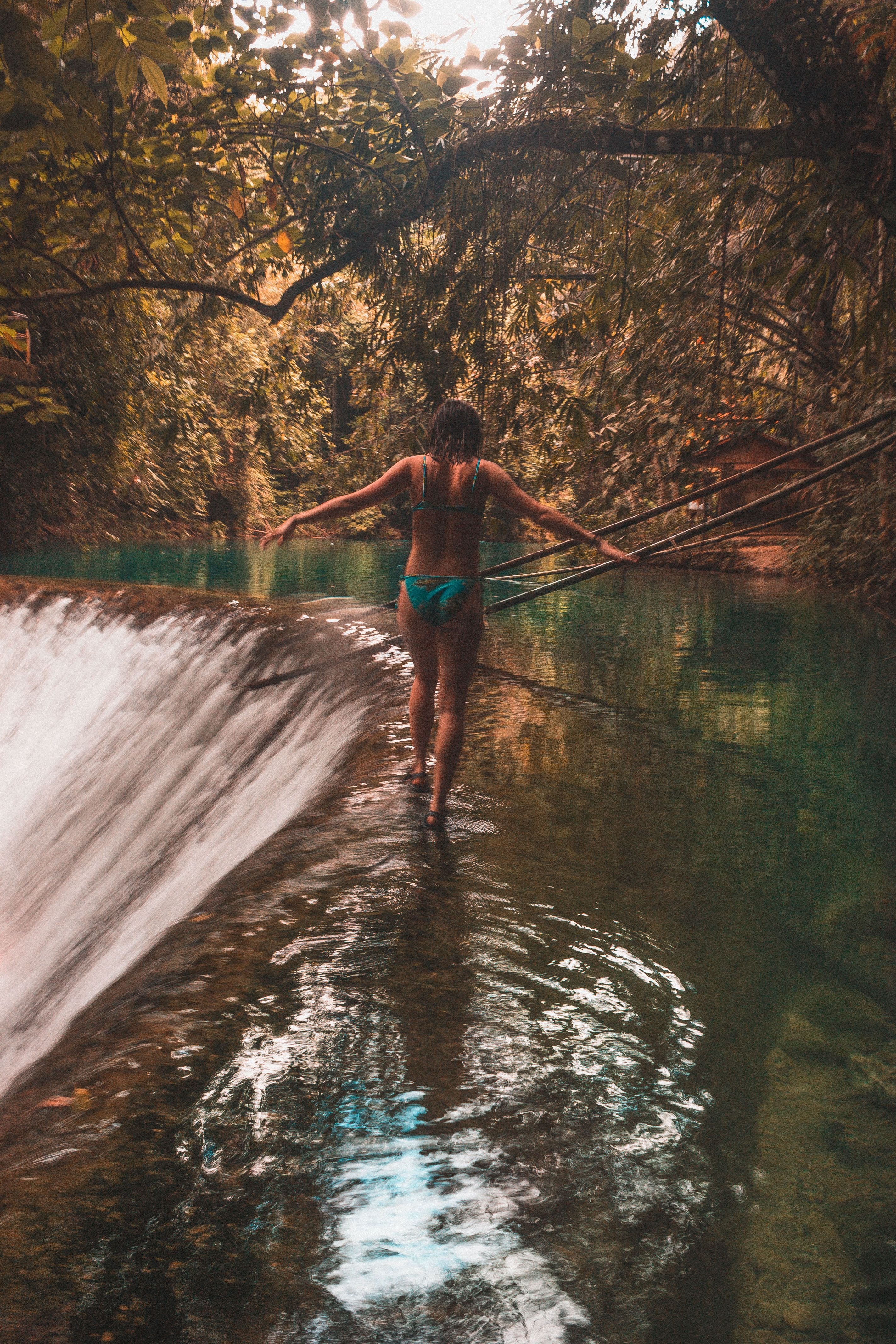 Kawasan Falls
You've probably heard of Kawasan Falls before. Some people travel across the world to the Philippines just to see this place. We'd seen a ton of photos prior to our trip and the intensity and brightness of the water color didn't seen real. I'm here to tell you….it's real. This is the bluest water in the world. Imagine blue gatorade, but by the hundreds of gallons.
The earlier in the day you go, the better you're able to beat the crowds, as this is one of the most popular tourist destinations on Cebu Island. We woke up at 6:00am and rented a motorbike from our hostel and got there by 7:00am. Most tourists do canyoneering early in the morning and end their afternoon at the main attraction - Kawasan Falls - which is a good move. However, we decided to do things in the opposite order to try to beat the crowds. Our original plan was to see the 3 major waterfall tiers on our own, then head back down and hire a guide to do canyoneering (which would have been about $20 USD/person). However, we spent about 4 hours exploring the falls on our own and felt completely satisfied with our time at Kawasan, not feeling the need to go Canyoneering. But, do what's best for you because we've heard nothing but amazing things about people who do hire a guide to slide around on natural water slides for a few hours - it's a win-win no matter what.
The first waterfall is the most picturesque, massive and popular of the three. When we arrived, there were already about 10-15 tourists, but we were glad that it wasn't packed. There were locals charging tourists to sit at the tables set up and vendors selling snacks and merchandise. In order to avoid paying for a table, you can simply set your bags down on the other side of the waterfall (across the bridge) where there will likely be little/no people. It's a great place to do some swimming and take lots and lots of pictures before heading up to waterfall number two. There's a big bamboo raft for all you Instagram models that you'll definitely want to snap a picture on.
The second waterfall is another 10 or so minute walk and was our least favorite of the three. There were less people here and we spent some more time swimming and taking photos, as well as flying the drone for some overhead shots. This is the waterfall where many people do a large cliff jump (located right next to the waterfall). It probably would've been more enjoyable for us if we had cliff jumped…. but were too scared. If you do decide to take the plunge, make sure you send us your photos (make sure you're repping Bamboo Ave shorts), we'd love to see them and congratulate you on your bravery. From there, you'll want to make your way up to the third and final waterfall. It's interesting because we heard this one wasn't very worth it. But contrary to popular opinion, this was our favorite spot. We set our things down and spent a few hours here swinging on the rope-swings and enjoying the views.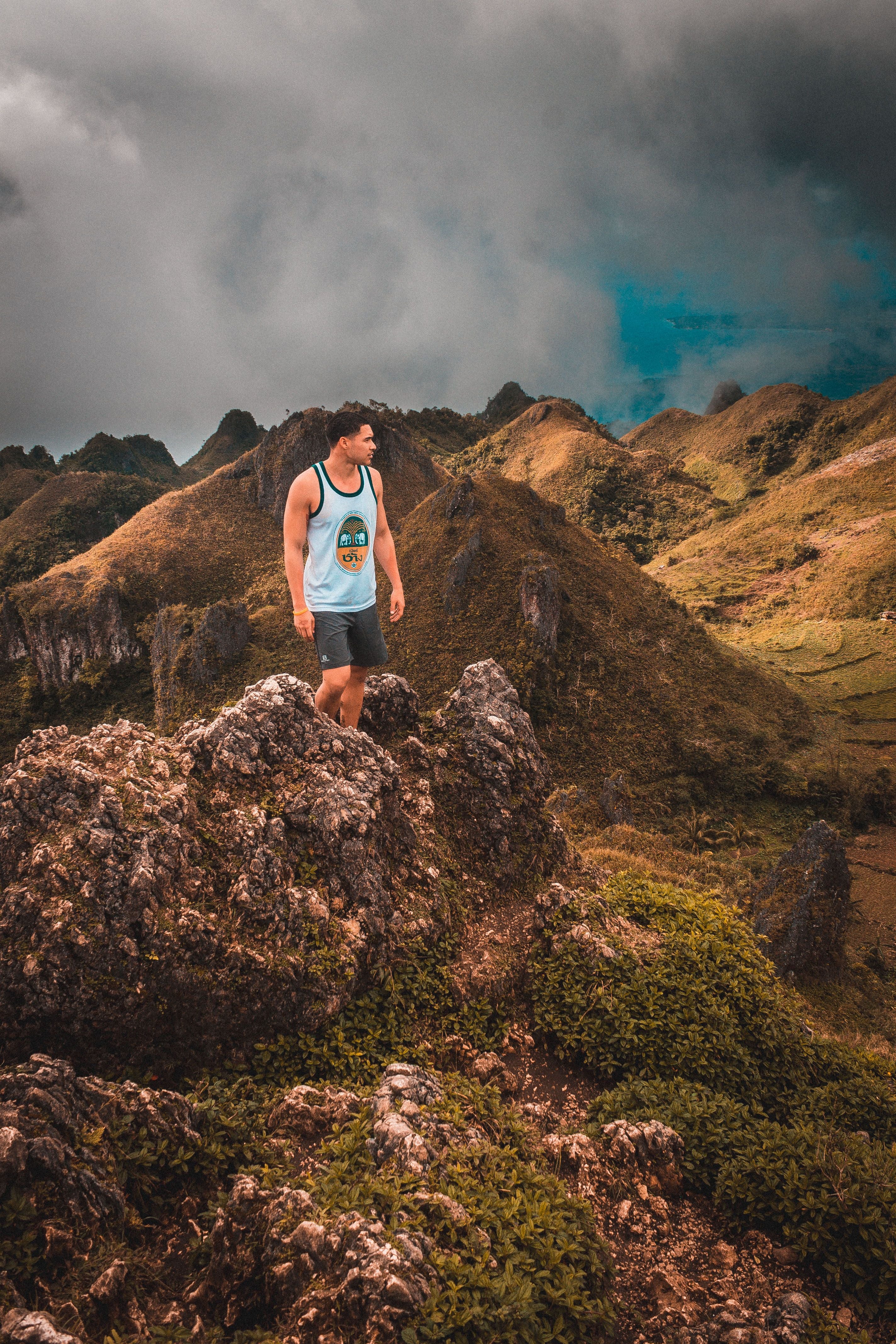 Osmena Peak
On our motorbike drive to Osmena Peak, we were able to pass through multiple villages and get some humbling insight into how many Filipino people live. We loved watching all the kids playing basketball - a local favorite that you'll see all over the country. If you mention Steph Curry, they'll go crazy. From our experience, the kids love that he's a little on the shorter side because it gives them hope for their NBA dreams. We also had probably 100 small children wave at us and get incredibly giddy and excited when we waved back. The kind hearts of the Filipinos never ceased to amaze us and is one of the reasons we love this country so much!
The last 25 or so minutes of our ride were not as enjoyable, but still a good experience. The road became rocky, broken, and tough. We had to get off the motorbike and walk it numerous times because it didn't have the power to get us up the steep hills (we probably just weighed too much, lol). Our Google Maps ended up taking us to a small path that was barely wide enough to walk on - but we rode our motorbike on it for about 10 minutes. We couldn't find the trailhead anywhere and asked a local girl which way. She pointed to a VERY small, barely visible little "path" on the side of the already tiny path we were on. Honestly when we were on it, we still didn't know where it was. We figured that she had to know, so we parked our motorbike and began walking on the path. We continuously slipped, got muddy and had to ask 2 different farmers in the mountains which way to go because the path split so many different times and there were no signs.
Needless to say, we finally made it to the correct trail (40 minutes in) and hiked 5 more minutes to the peak. That's when we realized that we had taken the wrong path to the peak, because the last stretch was fully paved. We were exhausted from the our backcountry hike in the muggy heat so we took a few photos and just relaxed for 45 minutes. It was a BEAUTIFUL spot and we loved the view. There were tons of small children at the top and no one was sweating and covered in mud like us….so we're assuming the normal trail was quite a bit easier. If you're able to find the right trailhead, it's 100% worth it. And if you're not, then you'll have a great story to tell like us!
When we got back to our motorbike and headed to our hostel, we got to experience an incredible ride down the mountain and then along the ocean. And once again, we got to experience an incredible sunset. The Philippines in general has some of the best sunsets we've ever seen. The kind of sunset that you stop, take it all in and just feel lucky to be alive.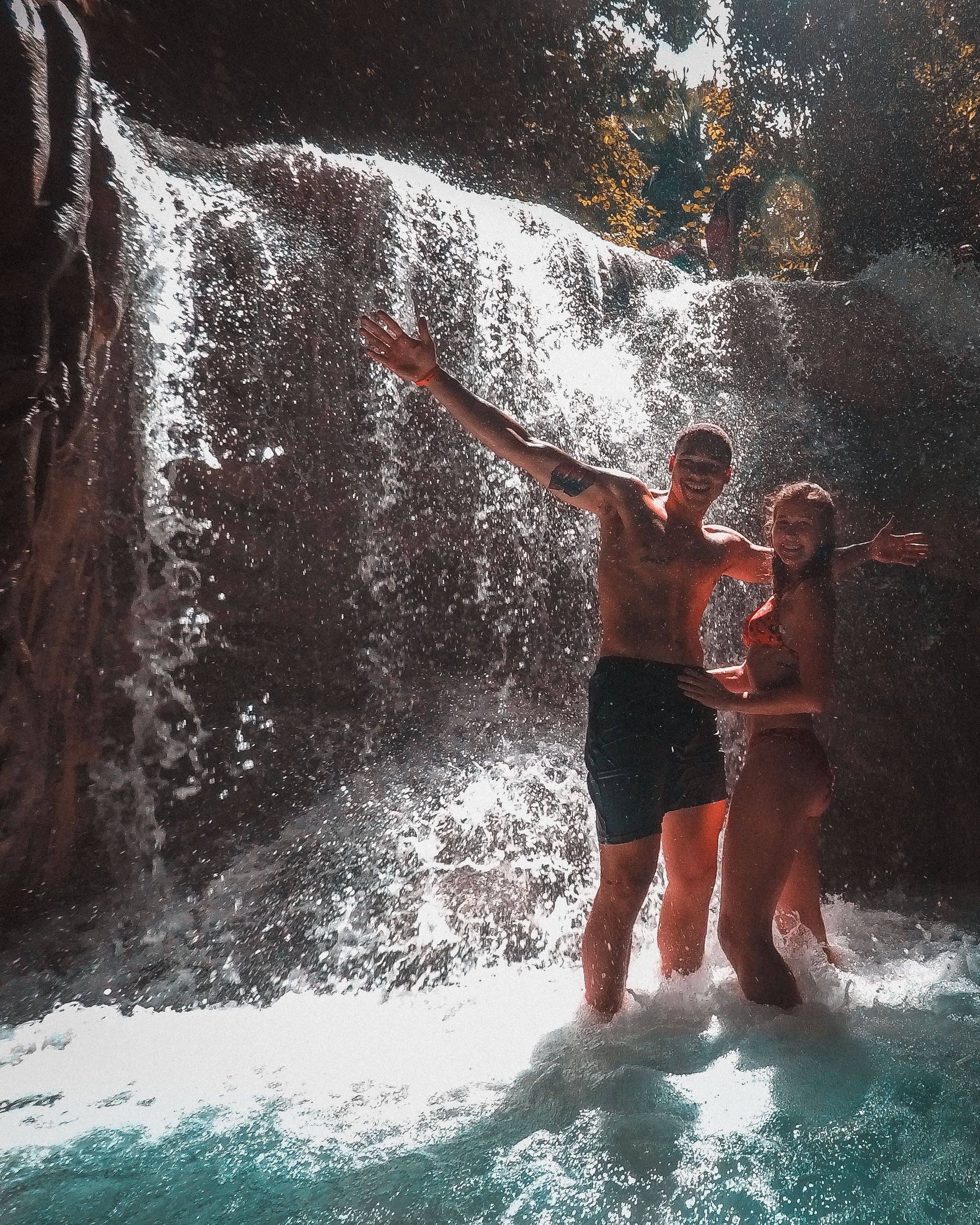 Aguinid Falls
This was one of the most unique waterfalls we've ever seen. First of all, there are 6 levels, which is awesome in itself. But it's so unusual because it's made of limestone. Because of this, the rocks aren't slippery in the slightest and you're able to climb up the waterfall no problem.
We had a guide, who was tip only, in which we paid 200 pesos for at the end of the trip. He was great and took all of our photos and videos for us. We climbed up all 6 levels with no problems, although were very happy to have our Chaco sandals on and recommend some sort of water shoes for the day. There was one place to jump in, but it was super shallow and we both hit the rocky bottom when jumping but didn't get hurt - but be careful and mindful.
The last level was the most stunning and we were able to climb up and behind the waterfall, before sliding down into the water. The entire tour only took only about 45 minutes and could've been quicker if we didn't take pictures, as each level was right next to the other. Overall, it was an awesome way to spend the afternoon.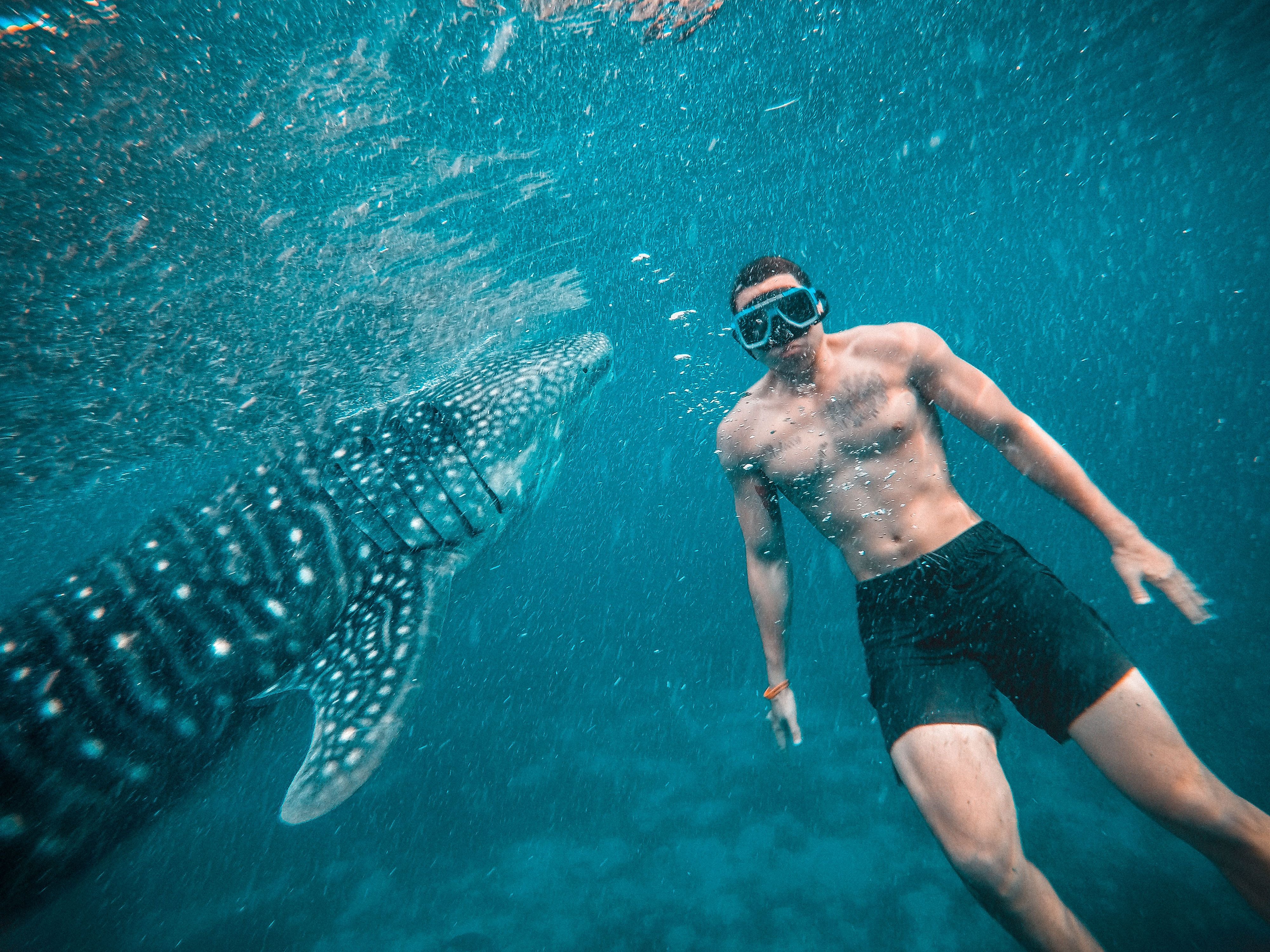 Whale Sharks in Oslob
Our highlight in Oslob, and the main attraction of the city - was the whale sharks. These bad boys are 18 to 25 feet in length and are such gentle giants. We were told by our hostel to arrive early in the morning to beat the crowds, and arrived at 7:00am, and we were happy with the relatively low crowds when we arrived. Even so, we ended up being the 77th group to go for the day. However, we went on a Monday and would recommend showing up earlier if you go over the weekend. You don't need a reservation - simply show up and pay $20 USD per person to swim with the whale sharks (no negotiating). There were also options to stay on the boat ($10) or deep dive ($30). We aren't certified to dive, but we knew we wanted to be in the water with the whale sharks and were super happy with our decision to swim with them.
We grabbed our masks/snorkels (provided for you) and hopped into a boat with 6 other people and had two guides on our little boat who paddled out about 30 meters, where all the other boats were connected via a rope. We were able to see about 10 Whale Sharks as there were boats near us feeding them the entire time. We were a little scared of the whale sharks at first (obviously, they're freaking massive) but after a couple minutes, you realize that all they care about is eating the food that our guides were feeding them and don't even notice you. We were told not to touch them, but were able to get very close and take lots of GoPro photos. We would have looked even better in the photos if we were rocking Bamboo Ave shorts - how many plugs can we do in one post? ;)
There was an option to have a guide take your photos for you, but bring a friend/significant other and you'll be just fine. It lasted for about 30 minutes and we were completely satisfied with our time in the water and the picture opportunities presented to us. From our tour, we walked 10 meters up the path and there were two restaurant opportunities. We went for the option with more people and were happy with our nice little American breakfast (2 over-easy eggs, toast and bacon).
Boat Ride to Bohol
Bohol will be the next place you go to after Cebu and this is the best way to get there! We had originally read online that the only way to Bohol was by boat from Cebu City (which would have been a long bus ride back north from Oslob), but at our hostel in Malabuyoc, the owners told us of a man named Emmanuel who could take us (yes, we have the inside scoop). Two days before our boat ride to Bohol, we had our hostel owner in Oslob reserve two spots for 800 pesos per person and were able to take a boat in the early morning after the Whale Sharks. There were two kids on the boat with tubs of cold drinks and snacks and were harassing us to buy the snacks, but luckily we'd already stocked up.They did have some pretty catchy lines though and kept telling us "no money, no honey" which almost got us to buy.
You can head to the bow of the boat, lay down, and take a nap, while you enjoy the sunshine (we didn't wear sunscreen and that Philippine sun completely destroyed our skin again, so be careful). It was about a 2 hour ride that was insanely beautiful. However, when we were awake, we did see a significant amount of trash in the ocean, so make sure to do your part by throwing your trash away and keeping our oceans clean!! And check out our next post to see what we got up to on Bohol!
Cheers,
The Bamboo Ave Crew
Hey! We are Mariah & Tray - the founders of Bamboo Ave. We're just an ordinary couple who loves to adventure and empower others on the way. We hope you enjoy following us as we learn the ropes of blogging and creating a brand. We love making amazing memories and creating something we are proud of! Follow us on instagram @bambooave and come chat with us. We'd love to hear from you!